Marketing Automation - Eloqua
Marketing Automation System
Marketing automation is a process and multifunctional event technology that automatically manages multiple channels. Through marketing automation, you can attract customers at any phase of the customer journey or marketing funnel. Effectively achieve the goal of "sending the right content to the TA at the right moment" with real-time content that is highly relevant and convert leads into lifetime advocators of your brand.
Building a Data Value Chain for Brands - Integrating Existing Customers and Data from Multiple Marketing Channels
"Digitization" is an inevitable process of modern marketing. As a diverse marketing platform derived from CRM, Eloqua utilizes first party data in combination with built-in marketing tools to obtain data that is far more complete and comprehensive. A continuously expanding database allows brands to observe consumers in more detail to facilitate personalized marketing; a sustainable data value chain is the key to achieving brand advantages in smart commerce.
Marketing Automation Leads to Revenue Growth - Enhanced Efficiency and Automated Management of Data and Campaigns
Marketing automation means sending the right message to the TA at the right time. Eloqua assists brands by building an automated marketing funnel that sets individualized marketing channels, message content, and timing depending on different TA segments and marketing scenarios. Eloqua executes campaigns based on your settings and provides continuous tracking to retain existing customers, develop new leads, and drive revenue growth.
Conversion Driven by Personalized Marketing - Control the Customer Journey for a Zero-Friction Shopping Experience
Eloqua's built-in marketing tools are integrated with multiple marketing channels that allow brands to design forms and landing pages using existing modules. All gathered leads and customer behavior can be integrated and analyzed within Eloqua to achieve highly effective personalized segment marketing with Line, WeChat, Facebook Messenger, Email, and SMS integration.
How to Achieve Revenue Targets
The 3 major trends of digital marketing are digitization, automation, and personalization. Eloqua provides brands with comprehensive solutions for all 3 by quickly penetrating marketing blind spots and uncovering hidden business opportunities. The promotion of dynamic customer journeys can satisfy the needs at every phase of a customer's purchase process and help brands achieve optimal ROI for marketing.
5 Major Functions to Evolve Brand Value
TA Identification and Segmenting
________
Increased accuracy in the segmenting of TAs can increase brand performance. Customers are segmented based on their purchase histories and participation to increase opportunities for upselling and cross-selling. Oracle's marketing tools can gather data and TAs from various marketing channels to enrich your brand database and expand opportunities for interacting with customers.
Campaign Management
________
Brand marketers can use visual components and drag-and-drop functionality through Eloqua's built-in modules to easily design forms, eDM, and campaign pages for placing ads across multiple channels. Save on time and labor costs for integrating multiple channels or relying on multiple contractors to work on a campaign. Campaign data is automatically related to Eloqua for analysis so that you control all the data for greatly enhanced ROI.
Lead Management
________
Using native CRM segmenting, Eloqua marketing tools can gather even more potential leads and rate them with built-in customer grading functionality. Keep up to date on the activity of potential leads and understand customer intentions by using powerful data conversion tools to close the distance between customers and your brand. Marketers can use Eloqua to build marketing automation systems without relying on IT departments. Utilize over 700 integrated technologies from among Eloqua's 500 partners to realize the limitless possibilities of creativity for your brand.
Metric Tools
________
Utilize Eloqua's smart commerce tools to integrate external data, improve analysis, and simplify interfaces so that marketers can quickly set and define analysis items, view real-time visualized metric reports, and intuitively track campaign performance through closed loop reports to confirm the impact of performance on marketing channels, revenue, and ROI, thereby identifying the key to increased conversion.
Marketing and Sales Synchronization
________
Eloqua's marketing automation brings marketing and sales closer together through machine learning and personalized marketing strategies such as identifying TA characteristics within closed loop systems, sales priority rankings, and tracking high value TAs to help grow your business. Eloqua establishes trust between marketing and sales by sharing information to help them work closer together and generate increased revenue as well as stable growth for your brand.
Intuitive Graphical Interface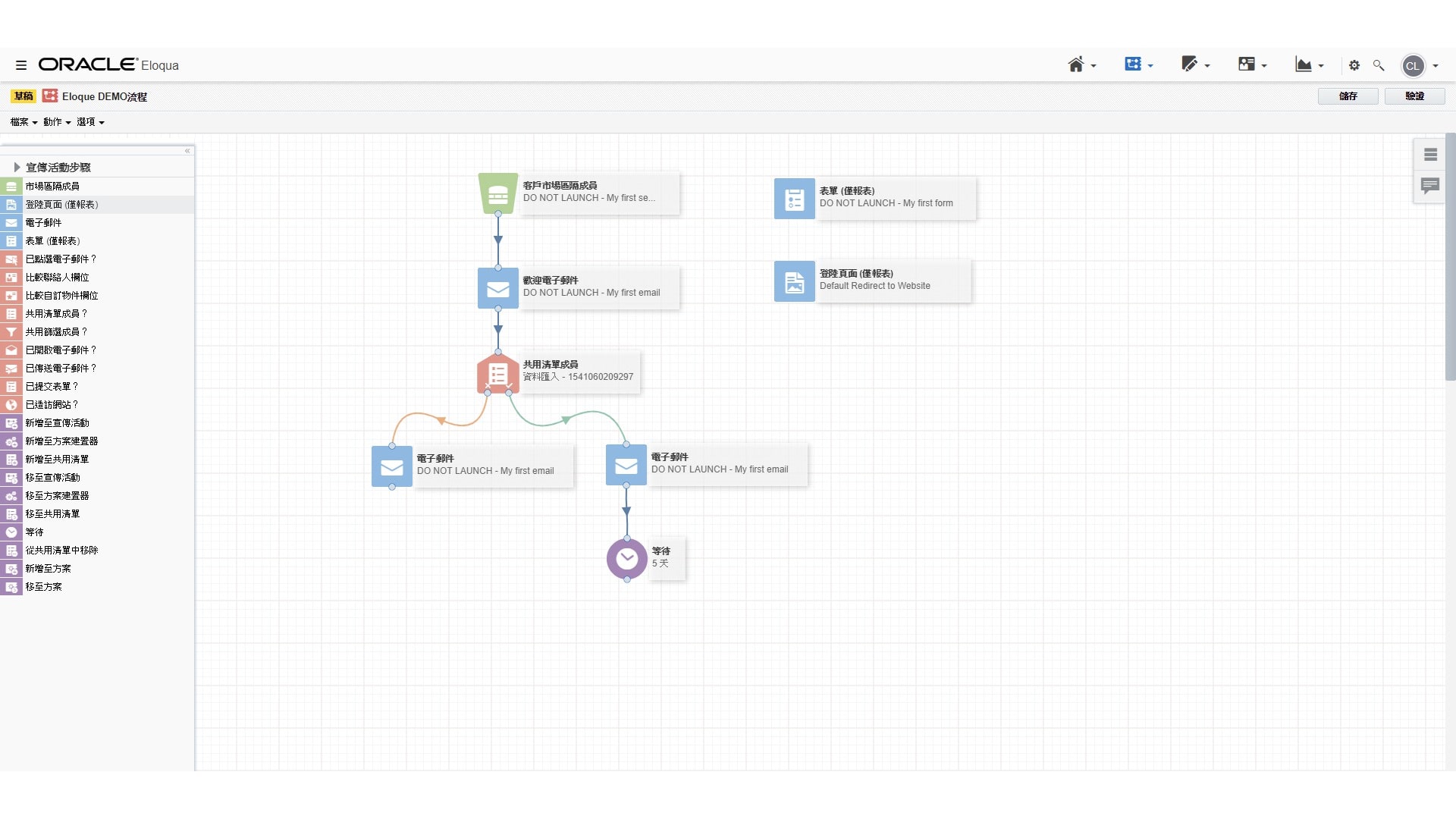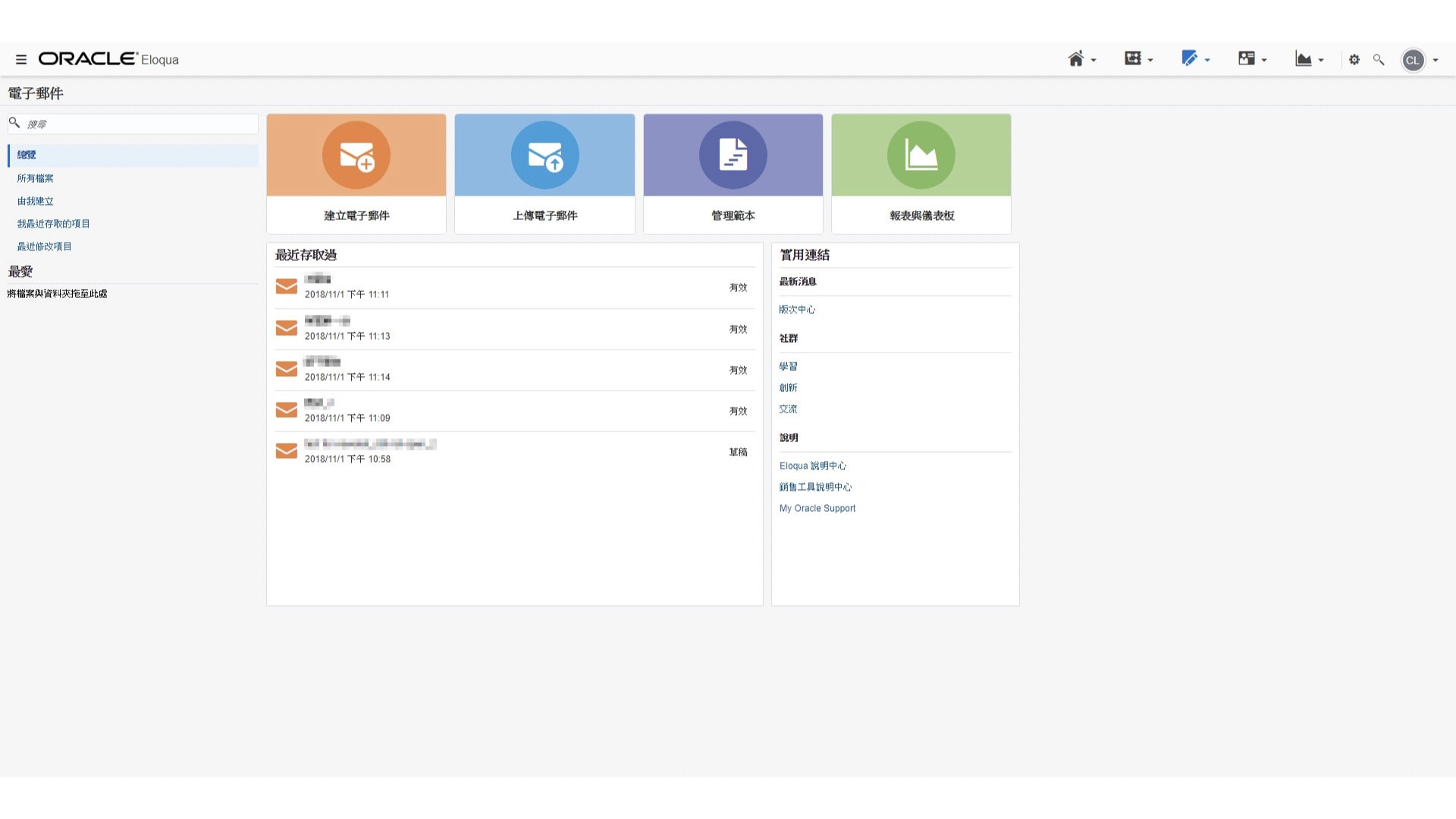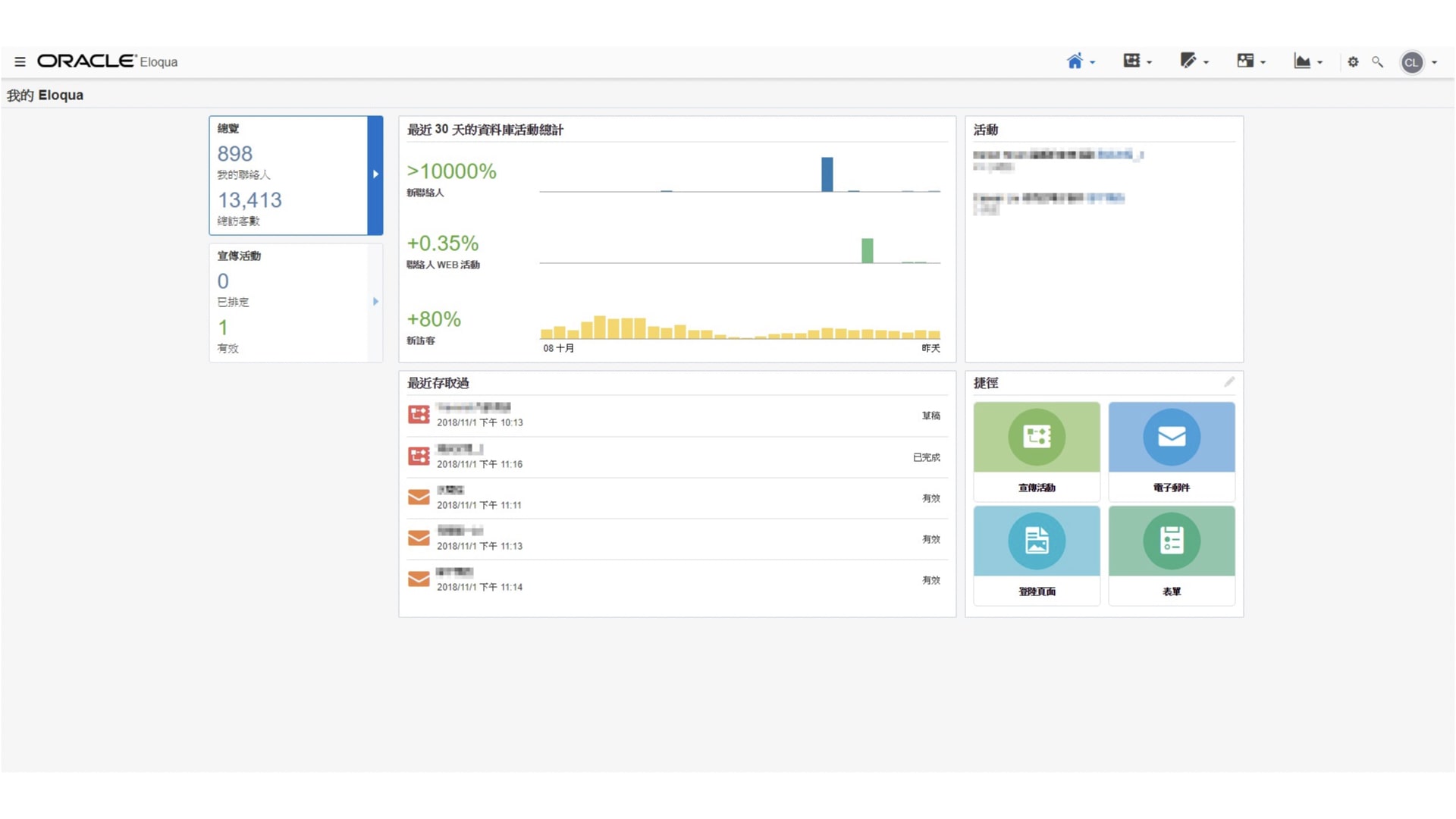 Internationally recognized brand Lenovo wanted to obtain a massive amount of customer data and used the marketing automation system to organize a Notify Me campaign. The campaign was designed around the behavior and preferences of different TA groups and used a highly personalized marketing model in place of traditional linear campaigns. As opposed to traditional campaigns that offered discounts via e-mail, the Notify Me e-mail campaign generated a revenue increase of 124X, an e-mail view rate of 65%, and a click-through rate as high as 61%. Compared to standard promotions with conversion rates of merely 3%, the performance of this campaign highlights the importance of data-based personalized marketing.
revenue growth through the campaign
%campaign e-mail view rate
%campaign click-through rate
Exclusive Development and Extended Applications Eloqua's marketing automation system contains a wealth of marketing tools and extended functions that enables it to stand out amongst similar products in terms of flexibility. In addition to many foreign free and paid extended functions, Wavenet Technology has also developed exclusive interfacing with LINE and SMS in Taiwan. One-stop management with localized language services and integration with Taiwan's largest SMS service helps marketing teams improve their performance while also reducing time spent.
The Most Comprehensive Marketing Cloud Service

Wavenet Technology is an Oracle Gold Partner and independent distributor of marketing automation software, offering a comprehensive ecosystem and Marketing Cloud services. Our professional MarsTek team assists clients with initial assessment, buying, implementation, extension, inquiry, and other marketing consulting services based on many years of marketing and professional advertising experience. We can accurately identify customer demand and utilize Marketing Cloud to help clients establish a solid marketing foundation, increase sales, facilitate enterprise growth, and ensure sustainable operations.